We are in network with all major local insurance plans.
Czulada Chiropractic
Chiropractic is one of the most amazing healthcare professions, but very few people understand what it's all about. We are here to help you gain a basic understanding of how our chiropractors can help you and your family. We proudly serve the communities of Scranton, Dunmore, Dickson City, Throop, Olyphant, Blakely, Peckville and all of the Greater Lackawanna County area.
CHIROPRACTIC MAY BE THE ANSWER
Your spinal cord is the system your body uses to pass information from your brain to every other part of your body. If a vertebra in your spine is misaligned, it may be putting pressure on a nerve. Even a small amount of pressure can disrupt the information traveling over that nerve.
If your nervous system is being compromised, your immune system may be compromised and malfunctioning. Chiropractors are specially trained to treat and protect the nervous system by relieving pressure on nerves. By doing this chiropractors are allowing your body to function at its max potential.
If you are struggling with back or neck pain, chiropractic care may be the best treatment option for you. Chiropractic is one of the least invasive and safest options for conditions of the spine and discs.
There are marshmallow like pads between your vertebrae called intervertebral discs. The discs are very tough, but can be damaged. The discs provide for movement in the spine. When discs start to degenerate the spine can become less mobile, and may even start to fuse together.
The discs also provide space between the vertebrae. This is important because nerves pass through the spaces that are created by the discs. Discs also act as shock absorbers. When movement occurs, the jelly solution inside the disc has the ability to expand and compress.
If the spine becomes misaligned, a disc can become buldged or herniated. In some cases it may even rupture. A misalignment is not the only cause for this problem. Age can cause the disc to become weak and dehydrated.
CHIROPRACTIC IS PROVEN NATURAL PAIN RELIEF!
Back, neck or nerve pain is a warning signal that your spine could be out of alignment and may be pinching a nerve. Chiropractic gets to the source and corrects the problem for lasting relief – without drugs or surgery. If you are suffering with discomfort and wish to improve your health naturally, we are genuinely concerned and we will provide the best care for you and your family.Many patients feel noticeably better after only just a few treatments. The sooner you get Chiropractic care the sooner you get relief.
Definitely! Chiropractic is the ….
Drugless way… to relieve pain, aches and pinched nerves
Simple way…to access the natural healing power of the body and correct health problems
Safe, Gentle, Easy way…to regain health without drugs or surgery for individuals of all ages
Positive way…to prevent futrue problems and pursue a life of optimizing the body's health potential
Conditions that most often respond to our treatment
Low Back Pain - Many causes of it including muscle spasm, arthritis, disc problems and pinched nerves may respond
Neck Pain and Headaches - Often these go hand in hand to create a chronic but treatable condition.
Pinched Nerves - You may feel pain, numbness and tingling in your arms or legs
Shoulder Pain - Chiropractic care can be very beneficial for the patient with a shoulder injury or shoulder pain.
Joint Stiffness and Muscle Spasm - Misaligned spinal joints create painful movement and swelling. Therapy combine with Chiropractic often has the best results.
REMEMBER, we only accept those cases we feel we believe we can help. If we can't help you, you will be referred to the specialty that can best serve your needs.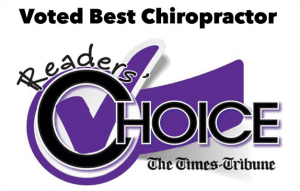 A CHIROPRACTIC TEAM YOU CAN TRUST
For more information about how the chiropractors at Czulada Chiropractic can help you live a happy, pain-free life, contact us today. We look forward to meeting you.